Heroes Gave 'Their Last Full Measure of Devotion' for Nation



These remarks were made by Charley Powell, TCU Class of 1961, at the TCU Veterans Plaza dedication ceremony on November 12, 2005. Mr. Powell's brother, Capt. William Elmo Powell, a TCU Air Force ROTC graduate, died when his plane was shot down by enemy fire in Vietnam in 1968.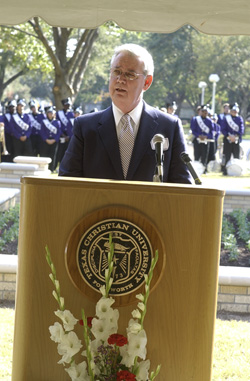 I love TCU. I've loved TCU since the day I walked on campus when I was a junior in high school in 1956. My younger brother Elmo, who was in the class of '64, also loved TCU. He's not with us today because on his 94th mission as the pilot of an F4D Fighter, his plane was shot down by North Vietnamese gunners. He was close to a week away from completing his 100th mission and being able to come home. On that fateful day, his co-pilot, Art Hoffson, was able to eject, but Elmo was wounded and unable to eject from the plane. Art said he had six bullet holes in his parachute before he hit the ground. In his words, "when the plane hit the ground, it was a virtual holocaust."


Art spent 4 1/2 years in the "Hanoi Hilton" as a prisoner of war. When the prisoners were repatriated, he notified the Air Force and my parents that Elmo, who had been listed as missing in action for those 4 1/2 years, had in fact been killed. Almost 20 years after my brother's plane had been shot down, his remains were returned to us for burial. He was 25 when he went down; he would have been 45 when we were able to bury him. Air Force ROTC cadets from TCU were pallbearers that day in 1988.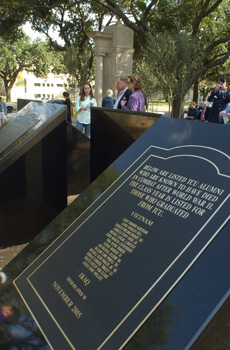 Each name on this memorial represents someone's loved one with a story that at least ends like mine. I'm both humbled and honored that I was asked to speak on behalf of the families of all these heroes who have given their last full measure of devotion for their nation. As we stand here today, we should realize that "Freedom is Not Free." These brave men were asked by their government to put themselves in harm's way, and they did, so that we can enjoy the freedoms we have today. I've always known that TCU was a place made up of special people and today we have come together to honor some of these very special people.
On behalf of the families I represent today, thanks to each of you who have had a part in making this memorial possible.