Recalling the Sacrifice of Fallen Heroes



These remarks were made by TCU Chancellor Victor J. Boschini, Jr., at the TCU Veterans Plaza dedication ceremony on November 12, 2005.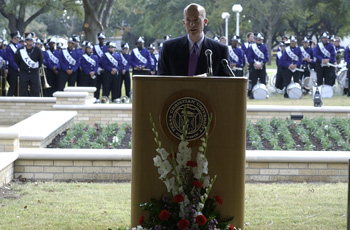 What a pleasure it is to welcome you this afternoon as we dedicate TCU's new Veterans Plaza. This beautiful campus landmark honors the sacrifices and achievements of Horned Frogs who have so ably served their nation and protected our freedom. It is especially fitting that we come together on this autumn afternoon that follows Veterans Day. It is fitting that today concludes National Veterans Awareness Week, declared by President Bush to recognize the valor and sacrifice of the men and women who have served in our armed forces. And it is fitting that we listen to stirring music that recalls the sacrifice of both our fallen heroes and the patriots who have served and have returned to a country they have made safer for us all.
As I mentioned earlier, yesterday was Veterans Day, which originally was called Armistice Day in recognition of the peace agreement signed on November 11, 1918, ending World War I after four years of conflict. Three Horned Frogs gave their lives in this war. Their names were engraved upon a plaque that was affixed to the Memorial Arch, constructed to honor their service. The next Great War — World War II — brought the Army, Navy and Marine Corps to TCU's campus for training, and scores of Horned Frogs enlisted and fought the good fight. World War II claimed the lives of 64 TCU students and graduates. Once again, the University inscribed in bronze the names of its own lost in this epic conflict, and their names joined those of their World War I brethren on the Memorial Arch.
Over the past half-century, hundreds of Army and Air Force cadets have trained at TCU and the decades since World War II have brought nearly a dozen other armed conflicts.
Yet TCU students and graduates who served their nation during these years did not have a campus marker to keep their memories alive — until now.
It was Texas Secretary of State and TCU Trustee Roger Williams who suggested this project, and he was emphatic that TCU should create something substantial to honor its veterans. Will Stallworth, the University's associate vice chancellor for facilities and retired U.S. Air Force colonel, suggested that we incorporate the Memorial Columns, the surviving elements of the original Memorial Arch, into the new plaza. Michael Bennett, TCU Class of 1978, created its serene and evocative design. Scores of Horned Frog alumni, friends of the University, supporters of the military services and just plain patriotic citizens lent their support. And as a result of their collaborative efforts, we assemble here today. And through their efforts, generations of TCU students to come, ROTC cadets, their families, their friends and other campus visitors will be reminded of the bravery, of the valor, of the sacrifices of those who are honored with this Veterans Plaza.
Now, I would like to recognize the veterans who are with us today. As I call out the name of the conflict in which you served, please stand. Please feel free to sit as we recognize the veterans of later conflicts.
- War World II
- The Korean War
- The Vietnam War
- Grenada (Operation Urgent Fury)
- Panama (Operation Just Cause)
- The Persian Gulf War (Operation Desert Storm)
- Somalia (Operation Restore Hope)
- Kosovo (Operation Allied Force and Operation Noble Anvil)
- Afghanistan (Operation Enduring Freedom)
- Iraq (Operation Iraqi Freedom)
- And all those who have served in the military at other times
To paraphrase Second Timothy, 4:7:
You have fought the good fight
You have finished the course
You have kept the faith.
Please join me in showing our appreciation for our veterans.
Thank you all for being with us today and for sharing this important moment in TCU history.