Honoring Horned Frog Heroes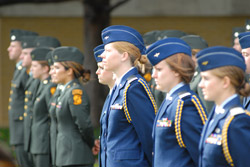 TCU's Veterans Plaza is a new campus centerpiece constructed to honor the sacrifices and achievements of alumni and students who served in both World Wars, Korea, Vietnam, the Persian Gulf, Afghanistan and Iraq. Although a longtime campus memorial honored Horned Frogs who died during World Wars I and II, other TCU students and graduates did not have a campus marker to keep their memories alive — until now. Alumni like:
CPT George Markos '61, a Distinguished Military Graduate of Army ROTC and the first Tarrant County casualty from the Vietnam War;

Capt. William Elmo Powell '65, a TCU Air Force ROTC graduate, who died when his plane was shot down by enemy fire in Vietnam in 1968;

Maj. Mitchell O. Sadler, Jr. '65, also an Air Force ROTC graduate, who was lost over Laos in 1970; and

CPT Tristan N. Aitken '95, also a Distinguished Military Graduate of Army ROTC, who was killed in April 2003 in an ambush near the Baghdad airport.
Dedicated Nov. 12, 2005, the new Veterans Plaza embodies the sacrifice and heroism of these and all TCU veterans and their families. It incorporates the existing memorial columns, as well as garden areas and walkways that stretch from the east side of the venerable Reed Hall to a fountain located northwest of the library. New seating areas give visitors a comfortable spot for quiet contemplation.
One of the most beautiful features of the plaza is a grove of small trees. A gap in the grove shows a patch of blue sky — the absence of trees representing Horned Frog heroes who did not return.
If you would like to provide more information on a Horned Frog veteran, please send an e-mail to tcualumnimail@tcu.edu or call the TCU Alumni Relations office at 817-257-7803.
Other TCU Veterans Plaza Links:
TCU Veterans Plaza Design
TCU's Military Legacy
Roll of Honor
In Remembrance of Fallen Frogs
Provide Information on a Horned Frog Veteran
Veterans Plaza dedication
Chancellor's Remarks at dedication ceremony
Honorable J. Roger Williams' remarks at dedication ceremony
Charley Powell's Remarks at dedication ceremony
Veterans Day Ceremony '06